Practice Update: 9/15 Practice 2
by
posted 09/16/2019
Here is a recap from our practice yesterday:
1. We reinforced the concepts from last week: the first two F's 1)FEET & 2) FIELD, snakebite for your throws. We ran the bases while shuffling our feet, to continue comfort with that motion.
2. We were able to break the kids into two stations
a) Coach Greg Roth took the half the kids and worked on fly ball tracking. Each boy had a ball, which they flipped to coach Greg who threw a deep ball that the boys had to run to catch. This gets them comfortable with a few things: i) raising their glove above their head to catch the ball, ii) taking appropriate angles to the ball, iii) catching while moving on the run, iv) NOT backstepping to go get the ball, as their bodies should be turned to move. The way Coach Greg ran this drill is much more effective than hitting them pop flies, which is very difficult to do as a coach and is even harder to keep the kids engaged. This was a rapid-speed drill where the kids got tons of reps.
b) I took the other half and worked on F's number 3 and 4: FUNNEL and FOOTWORK
FUNNEL:
After the fielder shuffles their feet to get into position and fields the ball with their glove open and butt down low, the third step is to funnel the ball towards their middle chest. The purpose of this is twofold: 1) it keeps the kids low to start and then has them come up on the ball, 2) it brings the arms, ball, shoulders, chest all towards a proper throwing position.
FOOTWORK:
After funneling the ball towards their chest, the kids need to get into proper throwing position. We worked on staying light on your feet, with a hop into proper throwing position with arm back in snakebite and legs split wide. We didn't actually throw the ball, as that will come next practice.
I have attached an image that shows these two steps together superimposed, which gives a good example of what I am stressing with the kids. In the foreground is funnel: you'll see how the child is bringing his glove up to his chest. In the background is footwork, as you can see the child mid-hop, getting ready to release the ball.
Keep in mind that the 6 F's are created to maximize the efficiency (minimize the time) for the fielder to make the play.
3. Hitting
We had some live batting practice and position play. Prior to the kids hitting, we reviewed some concepts of hitting:
a) stride towards the pitcher.
b) relax, even if it's your buddy pitching.
c) proper technique for avoiding pitches - move if you can, turn away from the pitch if you can't. It's much nicer to get hit in the butt than other places.
d) I introduced the proper hitting technique of leading with your hands. I told the kids that the knob of the bat should be pointing towards the pitcher - this forces the hands to stay inside the baseball. The image below shows Jose Bautista pointing the knob of the bat right at the pitcher. The hands stay inside the baseball, allowing for maximum time of the barrel through the hitting zone plus maximum speed of the barrel upon contact. Keeping your hands inside the ball also starts proper weight transfer and hip rotation.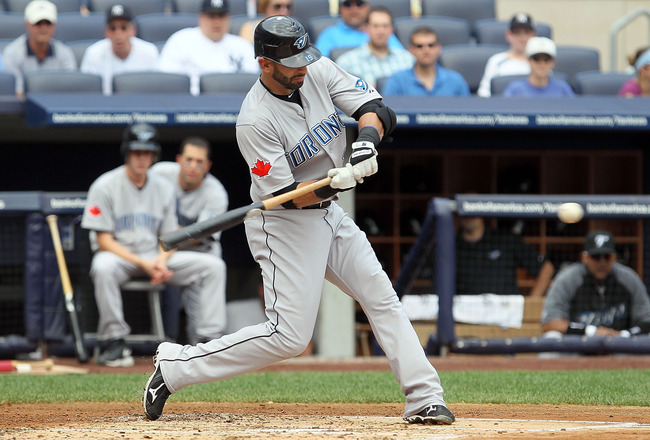 If you contrast this with the below picture, the kids at this age do what I call "the roundabout". While it's tough to get a picture of exactly what the problem is, hopefully you can extrapolate the bat motion. This child's arms will be fully extended at the point of contact, which will lead to a) poor weight transfer (they will still be on their back leg, or "pirouette" onto their front foot), b) weak contact since the arms are extended fully already. The swing will look very loopy.
Coach Greg was able to use the SKLZ hitting stick for the kids in the on-deck circle to reinforce these concepts, while I took the kids for batting and fielding practice. While the kids are in the field, I want them to start thinking through "What happens if the ball is hit to me? What happens if the ball is not hit to me? What are my responsibilities?" If you get a chance to watch a game with them and the TV broadcase shows the "All 9" view, make sure they watch how all 9 fielders move regardless of where the ball is hit.
Next practice is on Friday at 5:30, location TBD. We will be working on the final 2 F's, FIRE and FOLLOW, while continuing to work on hitting and throwing.
by
posted 09/16/2019
Apologies for the late recap, but it seemed the SLL website was having issues yesterday when I tried to send this out.
Another Saturday, another fall ball game for our heroes. The Hurricanes lined up against age-old rival, "Team 6". Who doesn't love that Hurricanes / Team 6 rivalry?
The boys started out strong jumping out to an early lead. The game was really quite a showing for the boys, as a lot more contact was made in this game than game 1, requiring the boys to be on their toes. The Hurricanes pitching was stellar as well, compared to game 1. Unfortunately, while clinging to a slight lead, our heroes faded down the stretch for the second straight game, being downgraded from a Category 5 to a Category 1. In the end, the Hurricanes lost 9-4 to Team 6, dropping our season record to 0-0.
Star(s) of the game:
Star: Eli Bedil, who went 1-2 with a sharply hit 2-run single in the first inning. Eli also pitched a spotless frame in the 2nd. Great job, Eli!
Star: Henry Lorch, who besides getting on base and scoring a run in the first inning, made a ridiculous catch in left field off of a bullet from the Team 6'ers. It was one of those hits that makes parents go "uh oh," but Henry was able to track it and make a nice grab to thwart the rally. Way to go Henry!
Little League Play of the game:
Goes to Levi Sherman, who had a ball thrown behind his head and was able to duck out of the way... unfortunately, he left his bat hanging up, which of course the ball hit and rolled into foul territory for a tough strike one. Levi looked at the other coaches and shrugged... "what can I do?" Here's to Little League!
Coaches' Corner:
The boys really played much better in this game, making a lot more solid contact at the plate. Baserunning was much improved as well, as well as the baserunning instincts. From a pitching perspective, the boys have finally learned that they don't need to throw it 100 MPH, and instead are focusing on throwing strikes and following through into good fielding position.
One thing we are going to work on through the next few practices is throwing THROUGH the target. At this age, the boys are aiming too much, and trying to have the ball run out of energy / land precisely in the other mitt. Instead, the boys should be aiming 5 feet past the target so that the ball carries on the desired trajectory. We will be working on that at Friday's practice.
Reminder:
Practice on Friday 9/20 at 5:30 PM at location TBD
Game on Saturday 9/21 at 12 PM at Edgewood 2 field vs. Team 4
by
posted 09/14/2019
I'll be sending a game recap out later tonight, but I wanted to see if we can find a good home for two lost items:
1. This glove hat combination is half black, half brown. In other words, it's a mixed breed mutt mitt. The hat followed was staying with his friend and followed him home with us.
2. This bat answers to the name "Raptor". It is a pure breed (metal). Has all its shots.
Please let me know if you can give these items a good home! I will bring them to practice tomorrow if you can attend.
Hurricanes: Schedule for week of 9/9
by
posted 09/12/2019
Hi all, I'd like to remind you of our schedule for this weekend. Please RSVP for both the game and practice.
Saturday 9/14: Game #2 vs. Team 6: 12 PM @ Edgewood 2 field (corner of Rodney Road and Nelson Road)
Sunday 9/15: Practice #2: 5:30 PM @ Heathcote 2 field. For those of you who haven't found the shortcut yet, there is an entrance to the back field on Fayette Road (off Carthage Road) that brings you right to the field.
I'd also like to welcome a new team member to our roster: Maxence Deharveng. Maxence is a 3rd grader in Fox Meadow. Welcome to the Hurricanes! Please check out prior posts on this message board for more information. I'll also try to sift through my emails and forward them to you.
Hope to see you all this weekend!
Practice Update: 9/8 Practice 1
by
posted 09/09/2019
Hi all,
If you didn't take your son to practice yesterday, I bet you were saying to yourself "Self, I wonder what was happening out there?"
If you DID take your son to practice yesterday, I bet you were saying to yourself "Self, I wonder what was happening out there?"
I figured I would send out a practice update so that you can reinforce messages at home. If you weren't able to attend practice HAVE NO FEAR, I will reinforce these concepts throughout the course of the season, and your kids will be able to catch up fairly quickly.
1. Throwing (Pitching): Snakebite
The proper way to hold (throw) the baseball is with your pointer and middle finger on the seams of the top of the baseball, the thumb on the bottom of the baseball. This positioning looks like a snake's teeth, hence the name "Snakebite". The key is that the snakebite should be facing AWAY from the target to start initially. This forces the shoulder and elbow to remain high, so the child can accurately throw with better mechanics. If the snakebite faces forward, the child has a tendency to shot-put the ball, or drop their elbow towards sidearm, which can lead to poor mechanics and poor accuracy.
I've included a picture below. Obviously this is a major leaguer who has thousands of reps and is probably starting his rotation from snakebite to release much later than the kids will. Plus, it looks like he's throwing a slider. BUT, this will give you an idea of the position of the hand / fingers and snakebite technique Coach Weigel teaches.
2. Fielding: The first 2 F's
Fielding is taught in the "6 F's": Feet, Field, Funnel, Footwork, Fire, Follow. We went over the first two:
1. Feet: kids should be shuffling their feet side to side (or front to back) to position themselves squarely in front of a batted ball. We worked on shuffling feet through having team races, then tried to incorporate through ground ball drills.
2. Field: now that your feet have gotten you into the proper position, the next step is "field". Glove should be open, with the pocket of the glove facing up. Gloves should be low to the ground, allowing you to come up on the ball.
3. Baserunning: Banana
The quickest way between two points is a straight line. For a single or for station to station baseball, that is fairly simple: run from base to base, but run through first base if you are the batter. For those instances where you can take multiple bases, we went over baserunning when you are trying to take an extra base using the "banana" technique.
In order to get this "point to point" concept, as your child is approching the base, they are supposed to curve out a bit. I've included a picture here of a batter going from home to first: you will see the batter goes slightly into foul ground to get an appropriate angle on the base. This will allow the runner to "cut" the base more effectively, going straight from the inside corner of 1st base on a straight line to 2nd.
By using the banana technique, the runner takes longer to get to 1st base BUT they get the benefit of delaying the decision making process on whether to go to 2nd base (allowing for more information such as errors or depth of ball) AND reduces the distance between first and second. Without the banana technique, you'll see the kids' momentum take them into shallow right field!
4. Hitting: not being afraid when kids are pitching
If you attended the game, you may have noticed that there weren't a whole lot of balls being put in play. Some kids were stepping out of the batter's box as the pitch was being thrown, pirouetting out of the way for strikes, and just being nervous while batting. I am chalking that up to 2 items:
a. First game of the season
b. Kids are inherently more nervous when other kids are pitching. They are afraid to get hit. They are afraid (or too psyched up?) to bat against pitchers they know. When parents pitch, they at least know they won't get hit and inherently relaxed more.
We didn't work on swing mechanics at practice per se, but I gave the kids each some individual pointers as they took some batting practice. Some of the more common pointers were:
-your front foot should stride toward the pitcher.
-your head should stay as still as possible, and watch the ball through to contact on the bat.
-don't be afraid of being hit (easier said than done). We also went through proper technique for getting hit by the baseball, if that is unavoidable. The kids should be turning AWAY from the pitcher, exposing their back, butt, and back of the head (which is covered by the helmet).
Hurricanes: An Update on Practice
by
posted 09/07/2019
Hi all,
Despite hoping that a moment of clarity would ensue by asking for everyone's preferences, there simply is no convenient time for all team members to congregate outside of game time. (And even congregating during game time appears to be iffy...)
What I am planning to do is rotate the 3 most popular options: Sunday evening, Monday evening, Friday evening. Please note the following:
1. Practice is 100% optional. Do not feel bad about missing practice!
2. Please try to RSVP a few days before so I can make a practice plan for the kids in attendance.
We will hold practice as follows:
Sunday 9/8 @ 5:30 PM @ Heathcote 2 field
Sunday 9/15 @ 5:30 PM @ Heathcote 2 field
Friday 9/20 @ 5:30 PM location TBD
Monday 9/23 @ 5:30 PM location TBD
Friday 10/4 @ 5:30 PM location TBD
[Please note: there are no games Columbus Day weekend (10/12) and I will be out the following weekend (10/19)]
Monday 10/21 @ 5:30 PM location TBD
Sunday 10/27 @ 5:30 PM @ Heathcote 2 field
Last game of the season 11/2
by
posted 09/07/2019
Hi all - something I've gotten into the habit of doing is writing a game recap to let you all know how the game went (in case you missed it), positively reinforce some of my coaching messages, and show the parents some of what I am seeing in the game. I also typically single out a "Player of the Game" and a "Little League Play of the Game". Hope you enjoy!
It felt like a crisp fall day at Heathcote 2 field today, the type of weather perfect for football and pumpkin carving. So of course, we had our first baseball game to play!
The first order of business was getting the blandly named Team 5 a new identity. We threw out some names... the Bombers, the Tigers, the Baby Sharks... but the one that stuck was the HURRICANES. In this moment, it was decreed across that land that Team 5 shall henceforth be called as such. It's true, I've filed paperwork and everything.
The Hurricanes, with nary a practice nor a warmup, took the field. The team started strong with some strong pitching and timely hitting, and carried a 5-3 lead through the 3rd inning. Unfortunately, our heroes staggered down the stretch, and wound up losing by the final score of 13-7. The loss drops the Hurricanes' record on the season to 0-0 (standings aren't kept).
Star(s) of the Game: With only 8 games and 12 kids, I'm going to assign two stars of the game.
Star: Levi Sherman - Levi was on base 3 times, drawing 3 walks, with 2 RBI. Levi also made a great play at 3B in the field, stopping a sharp grounder and getting a force at third. Great job, Levi!
Star: Andrew Schulman - Andrew walked three times and was hit by a pitch, scored 3 runs with 1 RBI. Andrew was patient and did a great job in the field, playing OF and IF positions like a professional!
Little League Play of the Game: I typically award the Little League Play of the Game to a person, situation, or circumstance that captures the essence of little league. Today's Little League Play of the Game goes to Umpire Joe. As the game was winding down, and that 2 PM deadline crept closer and closer, Umpire Joe's strike zone grew exponentially, culminating in the called strike 3 to end the game on a pitch that hit poor Miles! Here's to Little League...
In all, it was a great first game given the circumstances, and not even having a team assigned as of Thursday morning!
Our next game is Saturday, September 14th at 12 PM at Edgewood 2 field (corner of Rodney and Nelson Roads) vs. Team 6. Please make sure to RSVP for that game! I will also be sending out an update about practice shortly.
by
posted 09/06/2019
Hi all - so as I was going through the uniforms last night, I realized that we got a different number of small jerseys from small pants, a different number of medium jerseys from medium pants, and a different number of large jerseys from large pants. So, it's a huge mess. Add to that the fact that I don't have all team members' sizes, and without knowing some of the kids, I don't want to guess.
Therefore, we will do uniform distribution prior to the game tomorrow. The kids should be able to throw their t-shirts on top of what they are currently wearing, but have them wear shorts (or prior season's baseball pants) with cups (if possible).
Team 5 will be dressed in traditional Team 5 colors, which are navy blue and white. My son will have his uniform on, so look for us!
As a reminder, our game is Saturday 9/7 at 12 PM at Heathcote 2 field. Please try to arrive around 11:30 so we can warm up and get the uniforms distributed.
Chris
Welcome to Fall Baseball!
by
posted 09/05/2019
Hello families, and welcome to the 2019 fall baseball season. My name is Chris Bach, and I am your child's coach on the generically named "Team 5". I have a son named Kyle in 3rd Grade at Edgewood. This is my 2nd season coaching little league. I also have coached hockey with Scarsdale Youth Hockey Association for 3 years, and am dipping my toe in the girls' lacrosse waters for the Scarsdale fall lacrosse league for my 1st grade daughter. Needless to say, I enjoy coaching (as much as one can enjoy coaching).
I wanted to go over a few items for you with regards to this season. I will need some replies from you, which I have bolded below. I don't know all of the kids on the roster, but I do look forward to working with them and getting to know them and you through the course of the season.
1. Rules
The 3/4 fall baseball league will follow the rules for the Pacific league except there is no stealing or leading, and the pitchers will pitch from 42' not 46'. Please be familiar with the rules, especially regarding equipment (e.g. cups for the boys!) and sportsmanship. I will forward the rules separately as there is no way to attach a file when communicating through the website.
2. Uniforms
Uniforms consist of a jersey (t-shirt), pants, socks, belt, and hat. T-shirts run from youth small through youth XL. Please respond and let me know what size uniform your child needs, along with your home address. I will do my best to deliver the uniforms prior to our first game.
3. Practices
I am of the belief that practices should be part of the program. Learning only during games is often painful and full of tears! That said, I know baseball is a secondary sport for the fall for most families. We have hockey on Tuesday and Thursday and both weekend days, and other commitments during the week. I know travel soccer, football, and lacrosse are also huge time commitments. Therefore, I will leave it up to you, the parents, as to whether we have a practice. I will offer the following day / time combinations:
a. Mondays 5:30 - 7
b. Fridays 5:30 - 7
c. Sundays any time between 9 AM and 12PM (but, we also have to be mindful of religious services)
d. Sundays 5:30 - 7
e. OK not having practice
Please respond with all choices you are ok with!
4. Games
There is a lot to do during games for the coaches: managing the bench, focusing on the game, counting pitches, keeping score, first and third base coaching, providing encouragement, making sure everyone is paying attention... to the extent that you are willing and able to help, please let me know and I will put you to use! This can also be a grandparent, cousin, older sibling, etc.
As I start to get to know your kids, I will get to know their talent levels well. However, for the first game, this may be a bit of a mystery. Given that kids are pitching and catching, please let me know your child's relative ability to either pitch or catch.
5. Overall philosophy
First and foremost, HAVE FUN.
Focus on the process, not the results. We will be working a lot through the season on "thinking through" the game, then trying to execute what your individual plan is for each position.
At this age, everyone plays every position and everyone bats in every batting order position. I keep track of this each game, and while we may not hit everything due to the limited schedule, there will be a concerted effort to make things equitable.
Put kids in the position to succeed, but be ok with letting them fail. I'll give you an example: my son, Kyle, hates pitching. He does it perfectly adequately for a 3rd grader, but he hates it. He beats himself up over every "mistake". (and to him, a ball is a mistake!). But there is a lot to learn from not being able to do something well. Now... if there is a safety concern, I won't let the kid fail... there's no use putting someone who has trouble catching the baseball at first base. But it is important for the kids to grow and learn through struggles.
Incorporate teachings and vernacular from Coach Weigel's varsity baseball program. You'll hear me refer to "snakebite", "6F's", "Fourball" and other things Coach Weigel teaches at the varsity level. It only makes sense to have this permeate through lower levels!
Positively reinforce messages for wanted behavior. Negative punishment (e.g., reduced playing time) will only be used in instances of poor sportsmanship, and after repeated warnings. I will be sure to address any instances directly with the individual parents if such instances occur. (But no instances will occur because the kids are all precious little angels...right?)

Now, that said... I DO have a big loud voice when I need to, and to get the attention of a kid all the way across the field who is staring at the ice cream truck may require a raised voice now and then... if your child has a bad reaction to that, PLEASE let me know.

Build teamwork, leadership. A big part of coaching youth sports involves developing these kids into young adults. They have to face their own failures and the failure of others on whom they rely. Setting the kids up to encourage each other is one of my goals.
Build community. This starts with YOU, the parents. I expect each of you to take an active part in practice and games, whether in a formal role or just a supporter. Games and practices are not drop-off times with free babysitting. While I am a realist, and understand that other commitments (e.g. children at other events) may require your presence, I expect you (or a designate) to be at each practice and game for a majority of the event for a majority of events. This also helps the children with their own safety and security, because you never know when it's your child who may get injured... and this will happen.
If you've made it this far through the email, congratulations! Coffee is on me the first game.
I do look forward to meeting all of you, and working with your kids to make them better ballplayers and athletes. Our first game is Saturday, September 7th at 12 PM at Heathcote 2 field vs the also generically named "Team 1". Please be sure to RSVP for Saturday and for each subsequent game!
If you need to contact me, feel free to reach out at any point during the season. I can be reached at 215.850.8223 or
Best,
Chris Bach